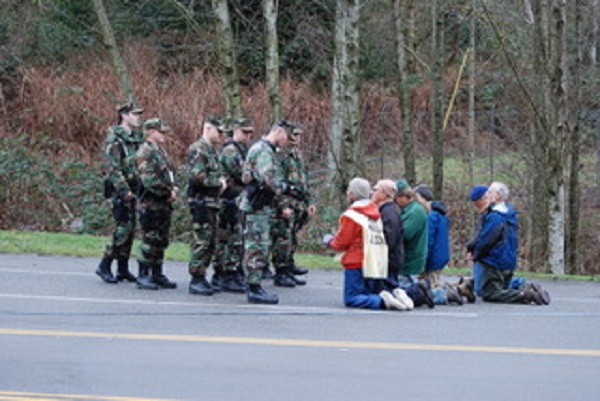 A request from Patrick Carolan of the Franciscan Action Network:
Recently the Franciscan Action Network has partnered with producer Helen Young to fundraise for her film, "The Nuns, the Priests, and the Bombs."
Donate now to support the film
The film follows a community of nuclear disarmament activists  (plowshares), including Sr. Megan Rice, who are willing to endure long  prison sentences, and even risk death, because of their deeply held  conviction that nuclear weapons are immoral and illegal.
We believe this film can play a role in educating our communities on  this pressing national and global issue and pray it can serve as a  catalyst for action. To that end, we have started a fundraising page on Crowdrise (a non-profit fundraising website) and we are reaching out for your  help to kick off this project.  A portion of all donations made will be  contributed to the defense fund for the plowshares group arrested in  Georgia after they penetrated America's so-called "Fort Knox of  Uranium."
Please help spread the word by sharing this page with your networks. If you are interested in hosting a screening this film, please contact us.
Peace and All Good,
Patrick Carolan
FAN Executive Director